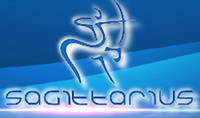 SAGITTARIUS is a 65.5 ft Privilege Catamaran built in 1995 (refit 2012 (and upgrades in 2015/6/7) to Include many technical upgrades and Exterior: topside paint, synthetic teak on stern scoops, courtesy blue LED step lights, underwater lights, spreaders spot lights (2x 3), new Spade 80kg anchor, laminated square top mainsail and genoa in spectra & kevlar, all new hydraulic hoses, hard cockpit shade with solar panels, new trampoline nets, all new running rigging, new external cushions and upholstery. Electronics: new radar B&G, integrated Simrad chart-plotter, AIS, autopilot, HI-Fi Harmann Kardon, TV, 3x iridium lines with data, Rogue wave Wifi booster. Engine room: full revision of all systems, including AC, watermakers, new 8 kw Kohler generator hi-pressure wash, new motors on furlers, on watermakers. Interior: all new LED lighting, new saloon and master cabin upholstery, all new induction kitchen, dish washer, laundry/drier machine, microwave, chart table instrumentation and electrical panel, all new branded linen, table cloths towels. In 2015 and 2017 new cushions for the trampolines & sunbeds, plus shades for the stern area of cockpit. 2017: new class A freezer, purified chilled and sparkling water machine, new wine cellar, new boilers, new mattress, new external cushions and sunmattress, new toilet hosing, Lofran windlass, new bluetooth receiver for internal/external hi-fi (in order to get the music from the guests' smartphones), hauling the boat, making a deep service. 2018 new washing machine, new induction hob, (…and new sails for october 2018).) accommodating 10 guests in 5 cabins with Captain Piervittorio Trebucchi (4 crew) offering yacht charters in Caribbean Virgin Islands, Caribbean Leewards, Caribbean Windwards.
| King Cabins: 1 | Queen Cabins: 4 |
WEEKLY YACHT CHARTER RATES:
Low Season: $18,265
High Season: $31,325
All Inclusive
Yacht Terms: CT
$34,458 for Xmas and $36,025 for NY
All rates are for 7 nights, 8 days. To prorate these rates:
For 6 nights divide weekly rate by 7 and multiply by 6
For 5 nights or less divide weekly rate by 6 then multiply by number of nights.
Brochure
Length: 65.5 ft
Beam: 34 ft
Draft: 6 ft
Cruise Speed: 9 Kn
Max Speed:12 Kn
Dinghy:
Jacuzzi: No
Airconditioning: Full
BBQ: Yes
Scuba On-board: Onboard

Summer Sailing Area: Caribbean Virgin Islands, Caribbean Leewards, Caribbean Windwards
Winter Sailing Area: Caribbean Virgin Islands, Caribbean Leewards, Caribbean Windwards
The luxury Privilege Catamaran offers the following accommodation:
4 Spacious Queen Cabins And One Very Large King Cabin, Each With En-suite Bathrooms With Dry Shower Stalls, Settee/writing Desk, Fans And Ac Controls. Master Has Stereo/cd Player/ipod Dock.
Bed Sizes/length And Width
King: 2.1 M X 2 M
Queens: 164 X 200
The Two Crew Cabins In The Bow Have Two Bunk Beds Each With Electric Vacuum Toilet, Shower, A/c – To Accommodate Four Crew, In Two Cabins Totally Independent And Separate From The Guest Area.
Safety Equipment On Board Up To 16 Pax.

The equipment available on-board the notable crewed SAGITTARIUS Catamaran for your pleasure and entertainment consist of:
From December, We Have Full Water Ski Equipment Both For Adults And Juniors. 2 Stand Up Paddle Boards (one 14 Feet X 8″ For Couples Or Heavier Weight, And One Fast 11 Feet X 6″ For High Performances).
Three Sun Bathing Areas (two Queen Size And Three Single Size In The Roof, Total 7 Pax).
Two Inflatables (3 Seat Banana And 3 Seat Sofa) And An Inflatable High Performance Knee Board.
Boogie Board.
Dinghy Has Honda 4 Stroke Engine With Roll Bar For Wake-board And Tow-ring.
No Fishing In Bvi Waters; Fishing In Us Waters OnlyLed Lighting Indoor, Outdoors And Underwater
External Solarium With Mattresses For 7 Pax
Solar Panels
Electric Bbq
5 Hairdryers On Board
Double Usb Smartphone Charger In Every Cabin
New Bluetooth-enabled Stereo Throughout
New Combo Mastervolt Battery Charter + Inverter (useful For Making Espresso, Cappuccino, And Ice Cream Without Using Generator)

Catamaran SAGITTARIUS Yacht Charters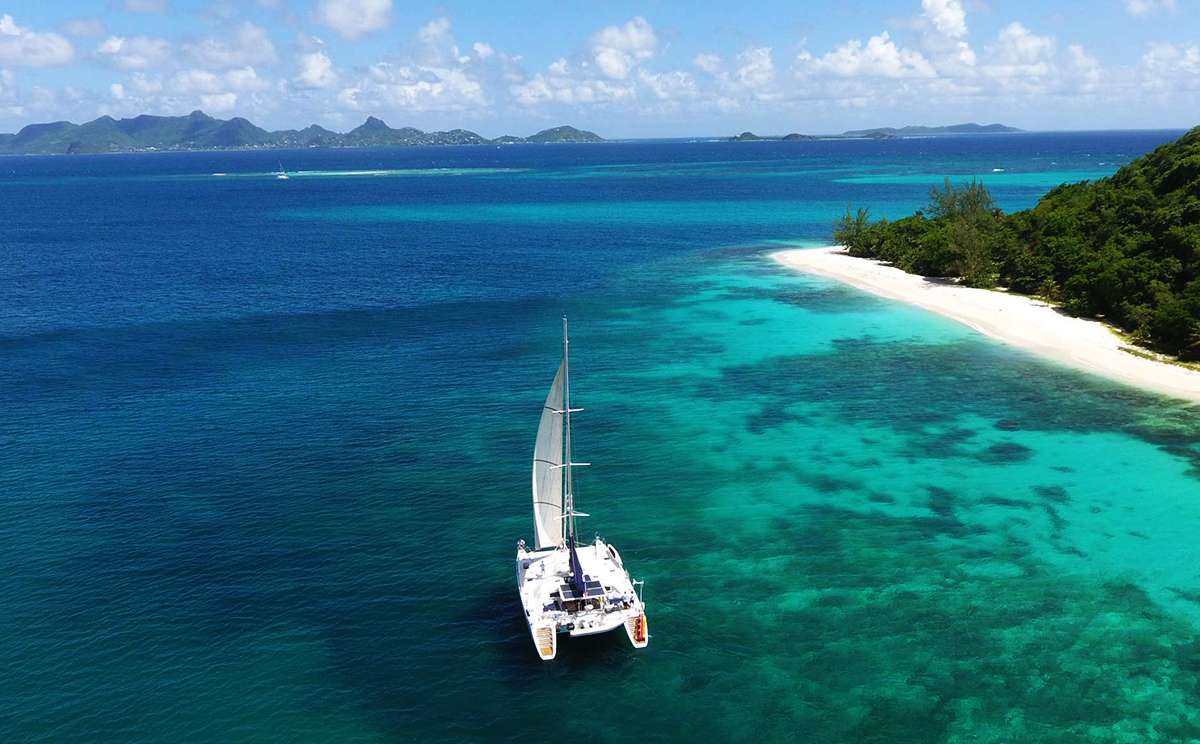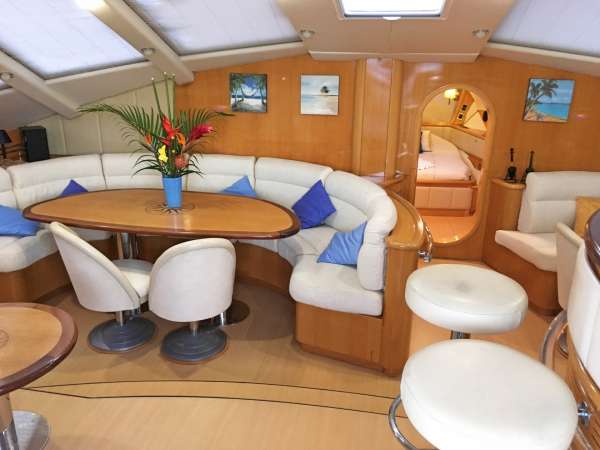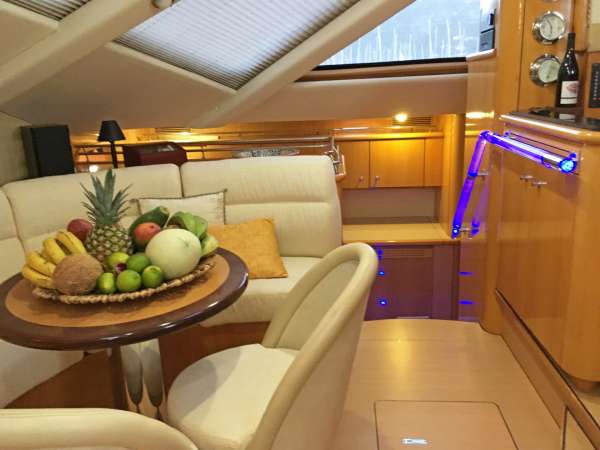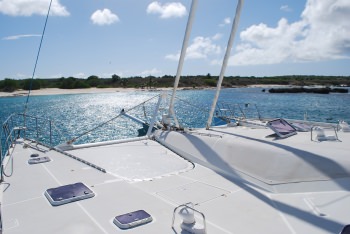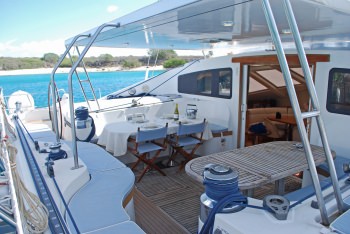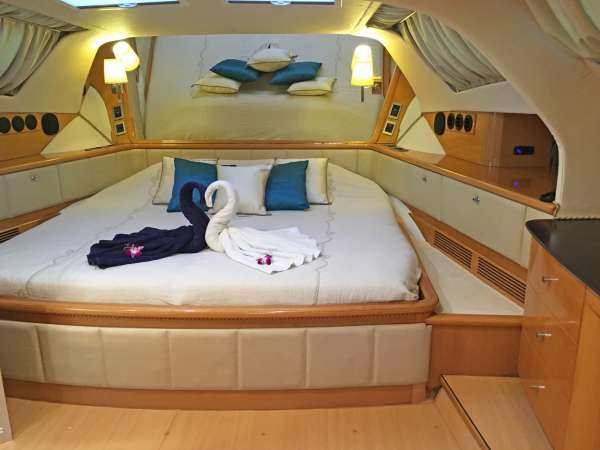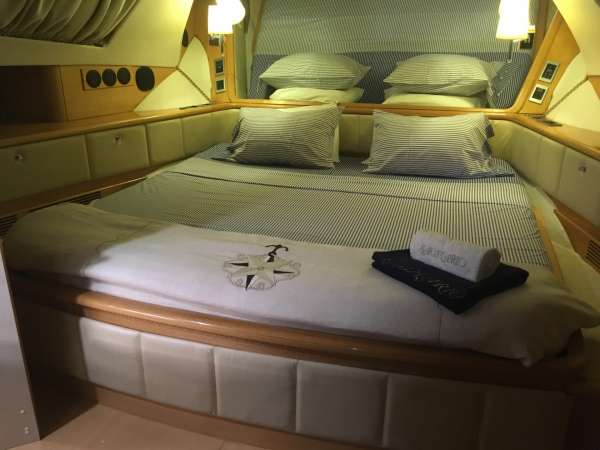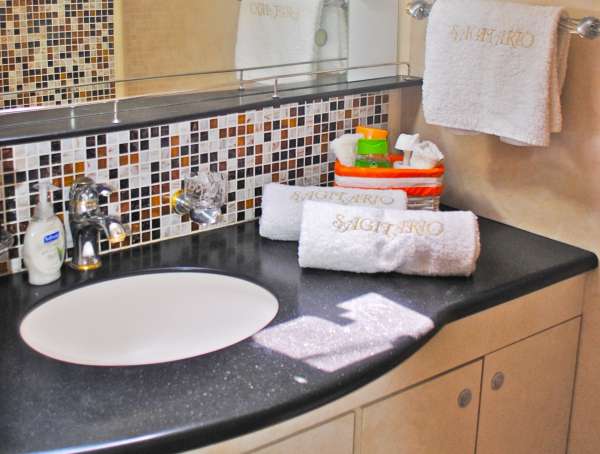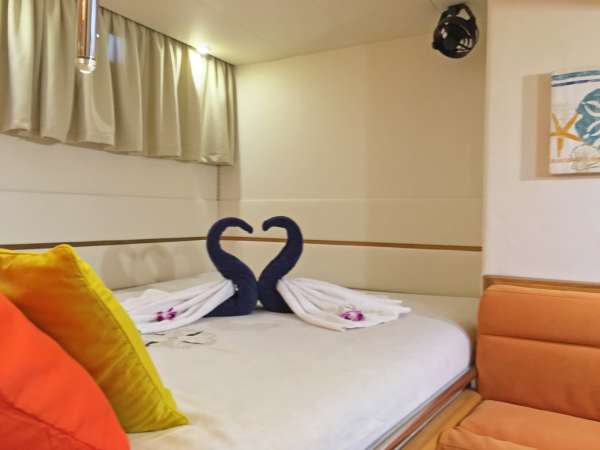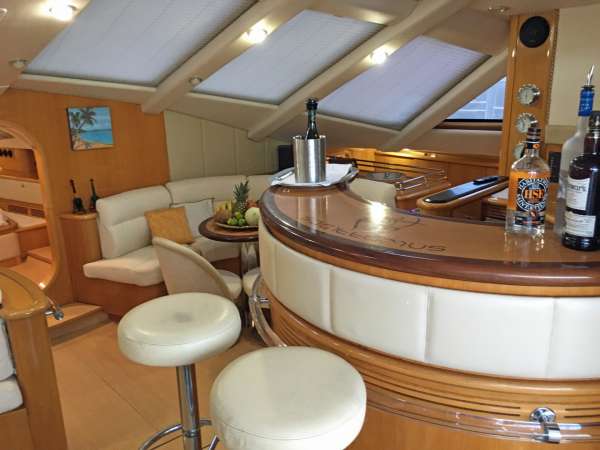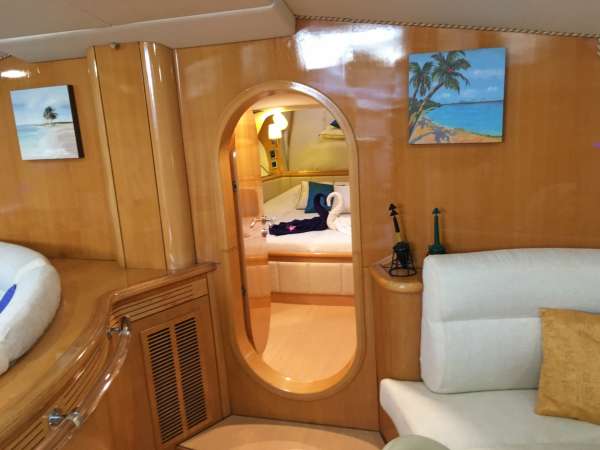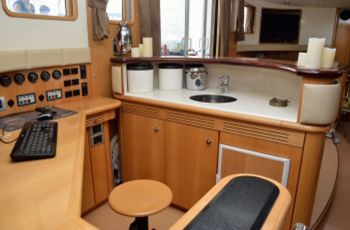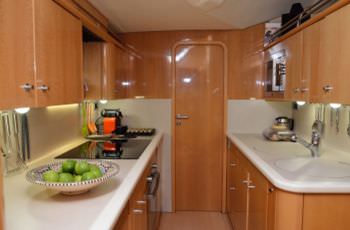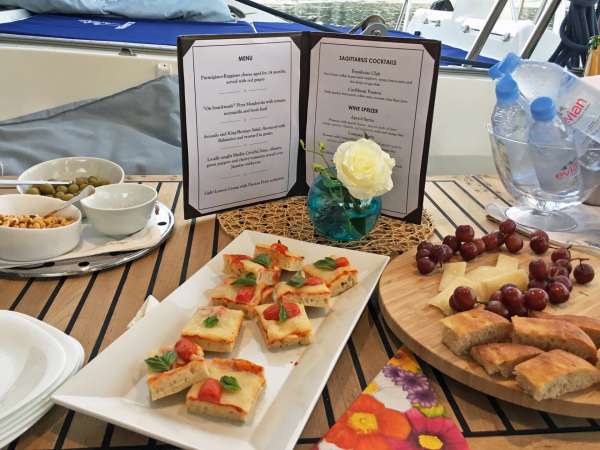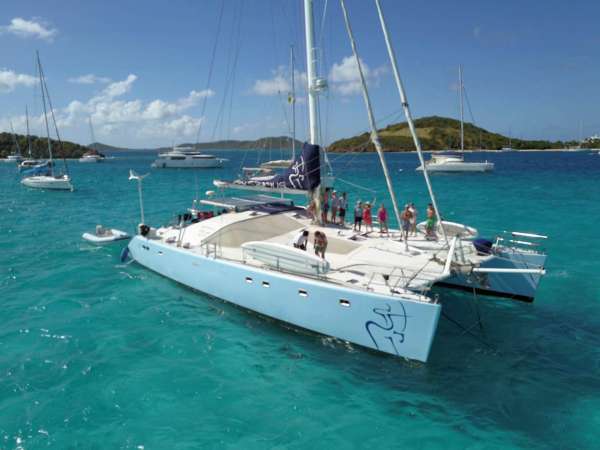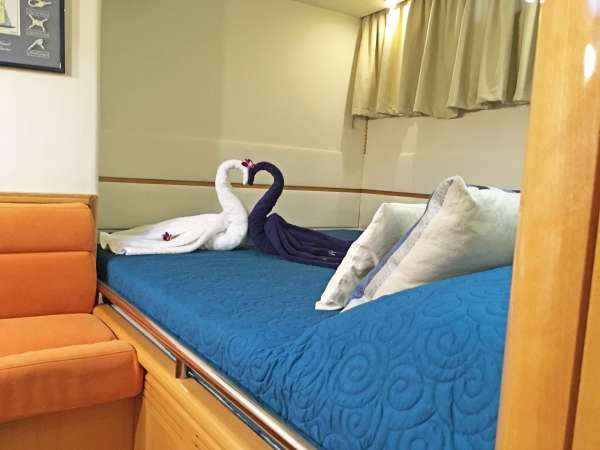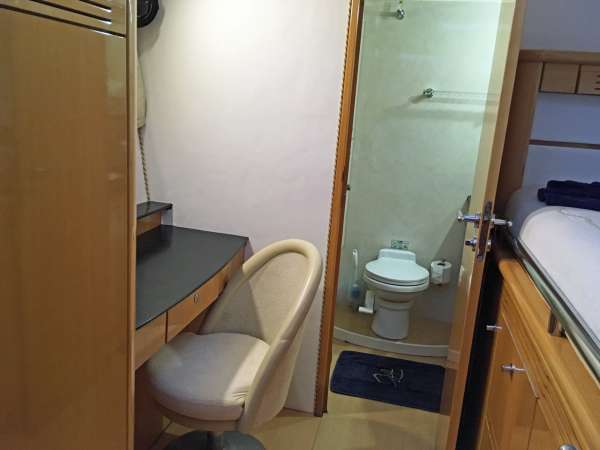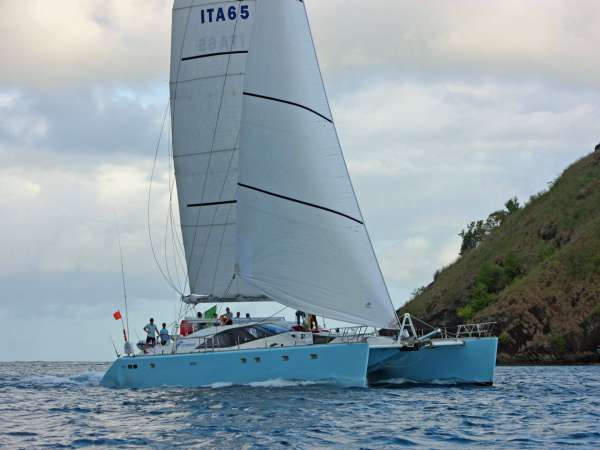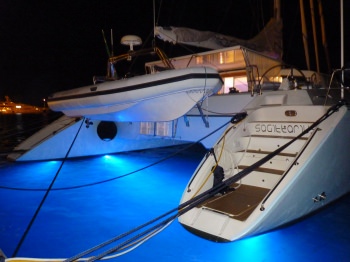 Catamaran SAGITTARIUS Layout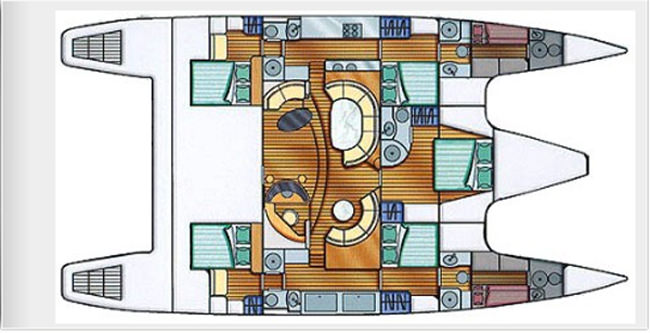 Catamaran SAGITTARIUS Crew Profile
CAPTAIN PIERO
Piervittorio Trebucchi greets you with a sparkle in his eyes. You sense right off that your charter aboard Sagittarius will be superb. Piero, or Peter in English, grew up in Desenzano, on Lake Garda, the perfect place for a boy to learn to sail. He had a natural talent for catching the wind, which earned him racing trophies in local sailing club competitions and fueled his sailing passion.
When Piero earned a university engineering degree and went on to become a successful entrepreneur in computer applications and environmental technology in consumer electronics eco-sustainability. He also enjoyed yacht racing, placing third overall in his first transatlantic race, the Transat des Alizes, from Portugal to Guadeloupe. In 2012, Sagittarius came in Open category with sixth fastest time among 230 participating boats in the ARC transatlantic regatta.
Sailing is Piero's first passion, but he is also accomplished at free-ride skiing, scuba diving, and auto racing on asphalt, ice and even the sands of the Sahara. His hobbies include reading books, especially comic books, and listening to jazz, soul, classical and classic rock. And of course, as a typical Italian, he is a connoisseur of great food and fine wine.
Piero has cruised with family, friends and charter guests throughout the Mediterranean and the Caribbean. His two beautiful little girls have grown up aboard sailing yachts. He can boast life-long friends the world over. He loves being a Captain and sharing his enthusiasm for the Caribbean islands' most beautiful moorings, folklore, and local culture.
His yacht, Sagittarius, is a testament to his engineering skill and environmental innovation, including green energy through photovoltaic panels and wind generators. Piero has realized a dream, successfully merging his passion for sailing and his eco-engineering acuity into his livelihood. Great reason for a sparkle in the eyes!
CRISTIAN SEQUENZIA – Alternative CAPTAIN / or MATE/Watersports (Captain's Licence – Italian EQ, unlimited, up to 24 metres)
Cristian Sequenzia, friends call him Cri (pronounced Cree), is the descendant of a proud and storied ancestry. He grew up in ancient Ortigia, a UNESCO World Heritage Site. This historic island is at the heart of the naturally fortified harbor of Siracusa, Sicily, Italy. It is the birthplace and homeland of many famous seafarers. Cri, with his knowledge and passion for seamanship, is a credit to these forefathers.
Cri was sailing with his father as far back as he can remember. He had his sea legs before he could run, and was swimming, diving and fishing as a small boy. After college, he went to work for a company that manufactured special parts for yacht construction. He specialized in carbon fiber composites, learning about yachts from the earliest stages of the build process.
In 2012, Cri brought his expertise to Sagittarius' extensive refit. "When I had the offer to start working on Sagittarius I didn't think twice. I quit my job to spend a year and a half on board, eight months of refitting and 10 months sailing around Europe and the Caribbean. I love sharing my passion for the sea with our guests; diving, snorkeling, swimming off secret beaches, exploring remote coves, pointing out turtles and birds' nests. I also love having fun water skiing, wakeboarding, and every kind of fishing." With his many talents and joie de vivre, guests on board Sagittarius are certain to love sharing in all the fun too!
CHEF RICCARDO LENER
Riccardo has a profound passion for cooking. He has been working in restaurants since he was 16 years old. He is a master at pleasing a variety of tastes but his real forte is his native Italian cuisine, including regional and national gourmet specialties. In addition, he is happy to provide special diets, kosher, gluten-free etc.
Riccardo is also a professional sommelier. Oenophiles will especially appreciate perfectly paired wines with each delicacy that he creates. Riccardo is adept at seasonal menu planning according to guest preferences. He provisions the freshest ingredients from local markets. His goal is always to please the palate of charter guests, from sophisticated haute cuisine to home-style cooking.
Riccardo is equally enthusiastic in the creative, exotic preparation of seafood or steak as a gourmet burger with fries, or traditional Continental recipes. Kids love pizza and pancake faces. Everyone delights in waking up to the aromas of freshly baked breads and cakes.
Here's a brief video of Chef Riccardo at work in the galley preparing a lunchtime dish
https://www.youtube.com/watch?v=WAGVOTV7R-w
In addition to his native Italian, Riccardo speaks English, Portuguese and basic German.
Previous guests comments:
-Riccardo's food was unbelievable, every meal was such a great experience.
-Riccardo was quick to meet our dietary and culinary needs. Excellent food.
-Chef Riccardo provided delicious and inventive culinary treats at each meal. Bravo Chef! We loved it all.
STEWARDESS – ALEXANDRA SUCALA
Alexandra has a happy energy that's contagious. She's also a pro at remembering the little things, so her guests always feel well taken care of. Working in the hospitality and restaurant industries in her native Romania honed her professional service abilities. As a professional bartender, she mastered an extensive cocktail repertoire.
She first realized her passion for learning about new places and cultures when she moved from Romania to Parma, Italy, to attain a university degree in Fashion Design. In Parma, her first job was as a barista. She learned a bit of Italian while fixing all sorts of delicious coffee drinks, and had the pleasure of serving travelers from around the world. Next, she worked as a waitress and sommelier at a top Parma restaurant. This position fueled her passion for wine and perfect pairing and five-star service.
When Alexandra made the decision to join the yachting industry, she obtained professional yachting certifications. These include: Super Yacht Hospitality for Interior, RYA Power Boat Level 2, RYA radio license and CIEH Food Safety Level 2. In 2014 she got her first position as a stewardess on a large, busy charter catamaran in the Mediterranean. She kept the yacht immaculate for the guests and added a beautiful flair with her flower arrangements and different table decorations at every meal.
Alexandra's manly skills are evidenced on board Sagittarius in her expert housekeeping, flower arranging, and silver service. She receives consistently excellent feedback from the guests. She loves to meet new people and enjoys traveling to new countries to experience different cultures. She speaks English, Italian and Romanian.
Previous guest comments:
– Alexandra was there at every turn to provide expert hospitality – she is a professional hostess – thank you!
– Alexandra does not have the word "no" in her vocabulary.
– You are the sweetest person and were always there to help with anything. Great Bartender!
Please contact Royalty Yachts for more information regarding:
Catamaran SAGITTARIUS Yacht Charters.
Related Yachts: