S/Y HYPERION Yacht Charters
S/Y HYPERION 48m (155.5ft)
Built Royal Huisman, Holland, 1998
6 Guests in 3 cabins / 8 Crew
Captain Daniel Rawlins
Location
Winter 2015/2016 – Caribbean
WEEKLY YACHT CHARTER RATES:
$97,000 – High Season
$90,000 – Low Season
Key Features:
Large pilothouse and spacious salon,
Master cabin includes a luxurious office area and a relaxation area,
Ample storage and state-of-the-art entertainment systems in each guest cabin,
Swim platform and sundeck,
Wine stored in a 200-bottle temperature controlled wine cooler.
Online Brochure
PDF Brochure
Crew Profiles
a href="https://royaltyyachts.com/_PDF/HR%20SY%20Hyperion-Menus.pdf" target=_blank>Chef Menus
Website with videos
Yacht Name
HYPERION
Pax
6
Yacht Type
Sail
Crew
8
Year Built
1998
Cabins
3
Length
47.42
King Cabins
1
Beam
9.56
Queen Cabins
1
Draft
4.70
Single Cabins
Units
Metres
Double Cabins
Builder
Royal Huisman
Twin Cabins
1
Cruise Speed
10
Pullman Cabins
Max Speed
15
Children Allowed
Yes
Dinghy
McMullen and Wing
Min Child Age
Dinghy Hp
165
Airconditioning
Full
Jacuzzi
No
BBQ
0
Helipad
Refit
Scuba On board
Yacht offers Rendezvous Diving only
Sailing Yacht HYPERION Yacht Charters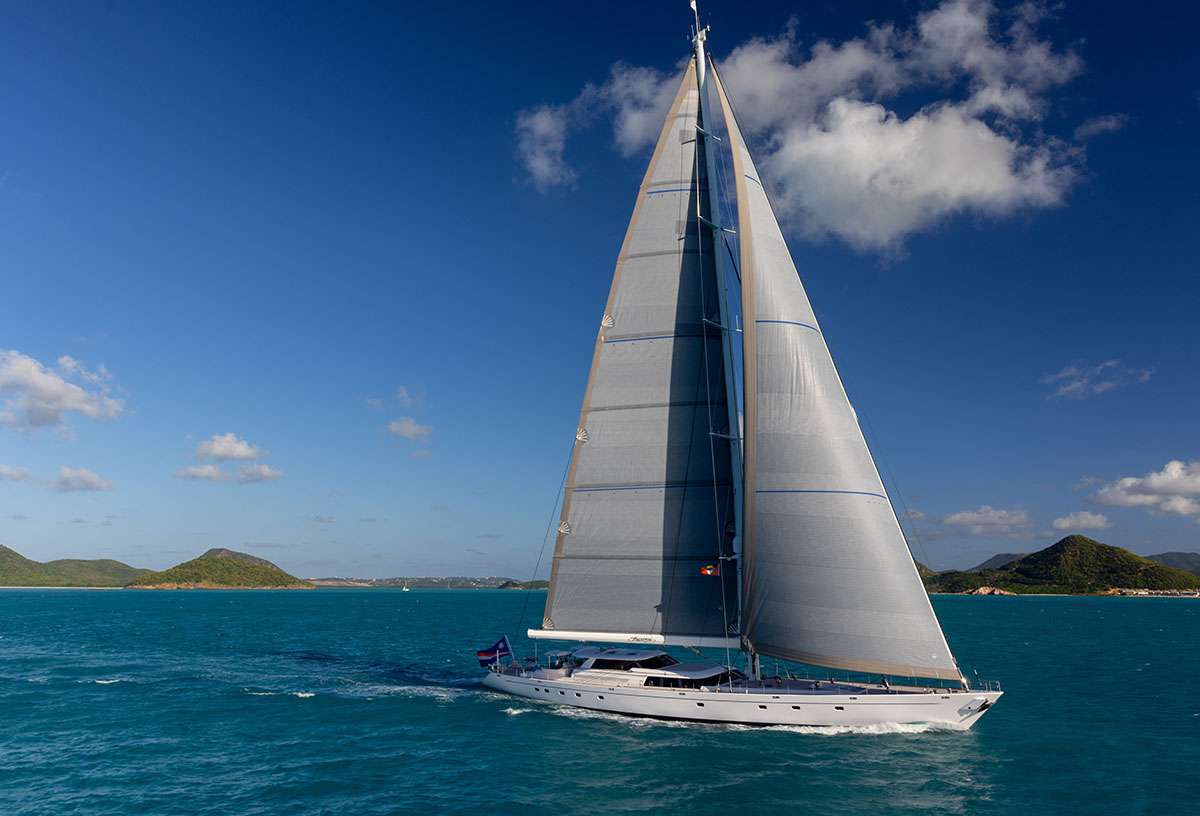 S/Y HYPERION Accommodations
Full beamowner's cabin located aft with king-sized bed, study area and bathroom en-suite.
Double cabin starboard side aft with queen size bed, shower room en-suite.
Twin cabin on port side aft with two single beds and shower room en-suite.
S/Y HYPERION Water Toys
2 sets of kite surfing gear
towable inflatables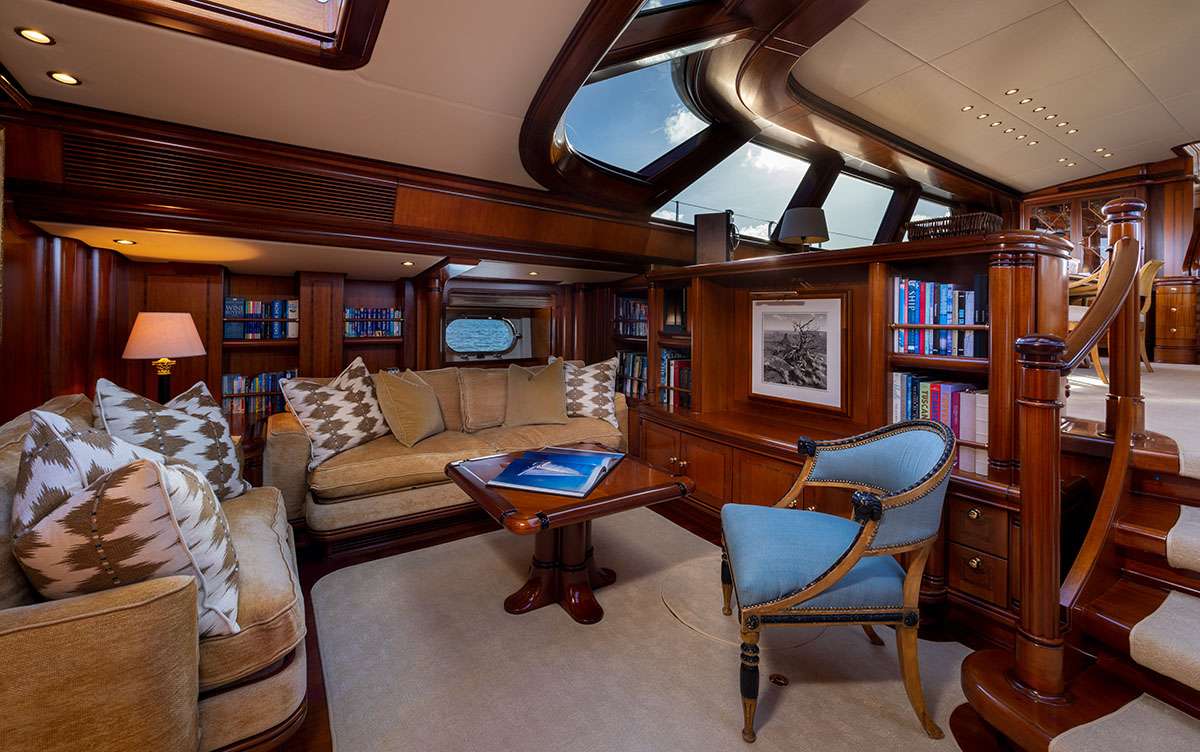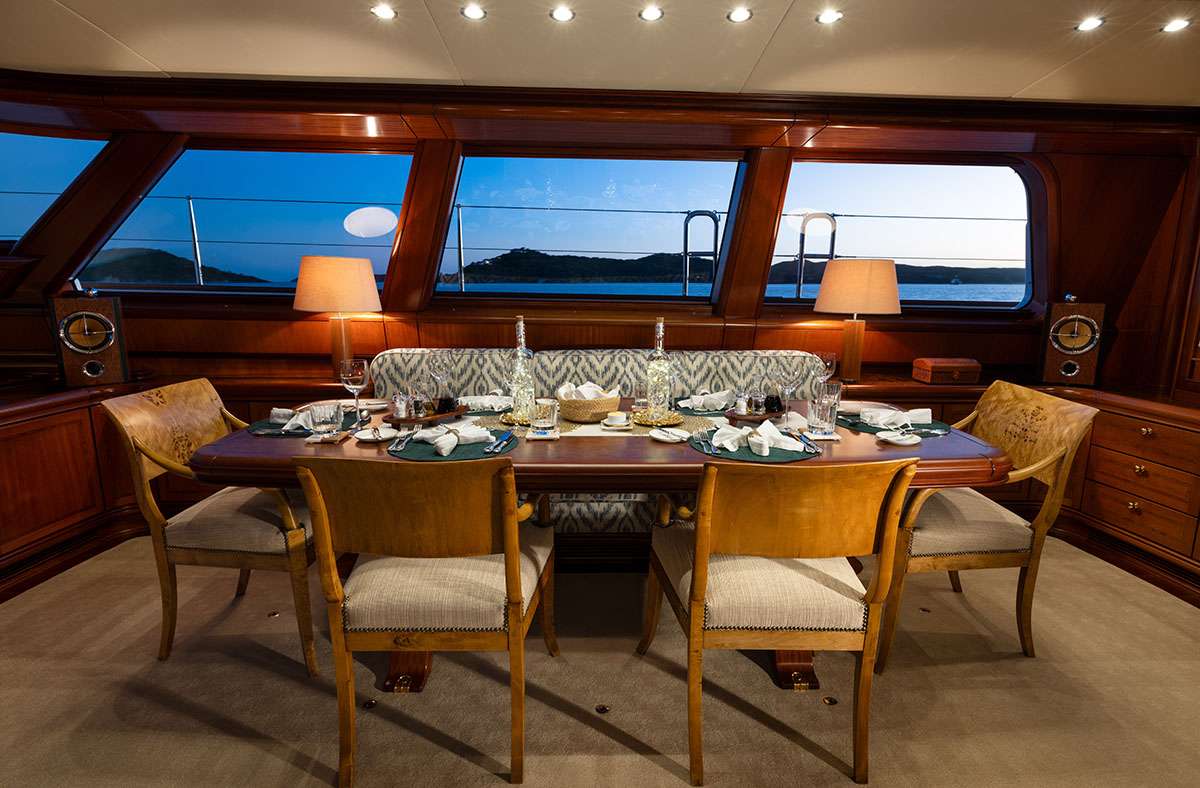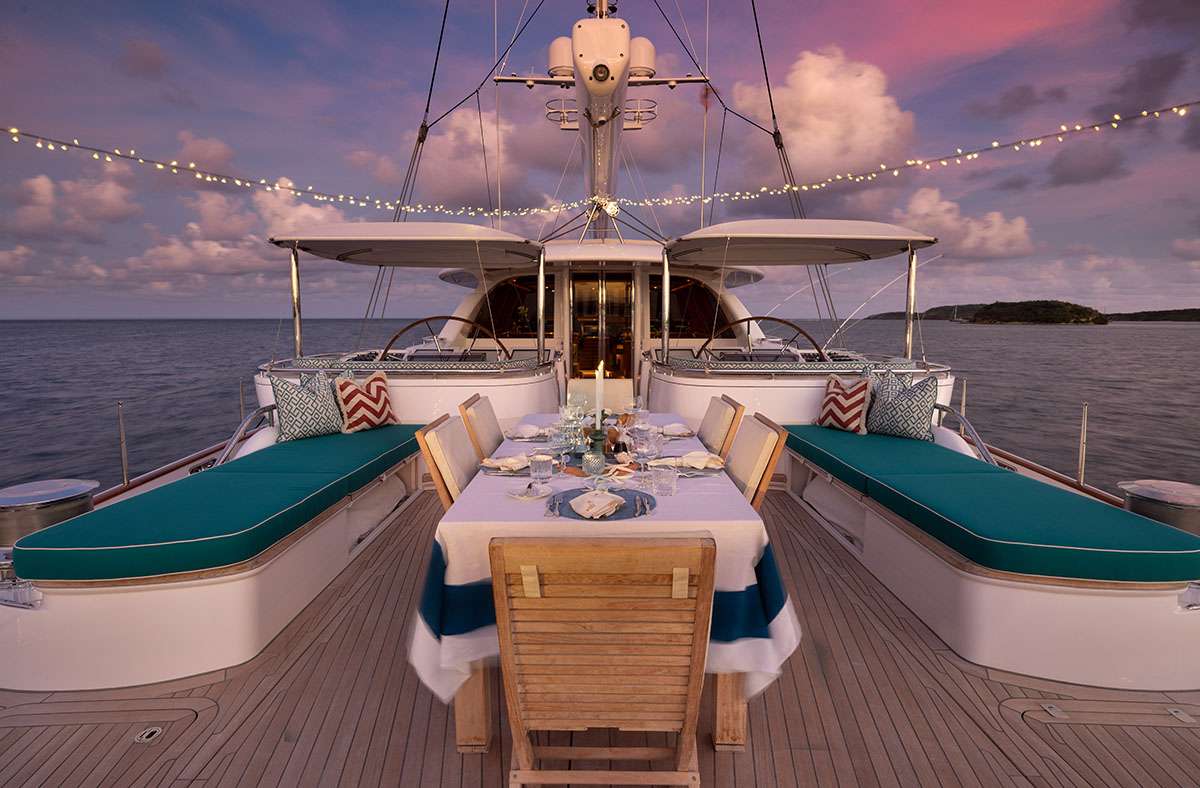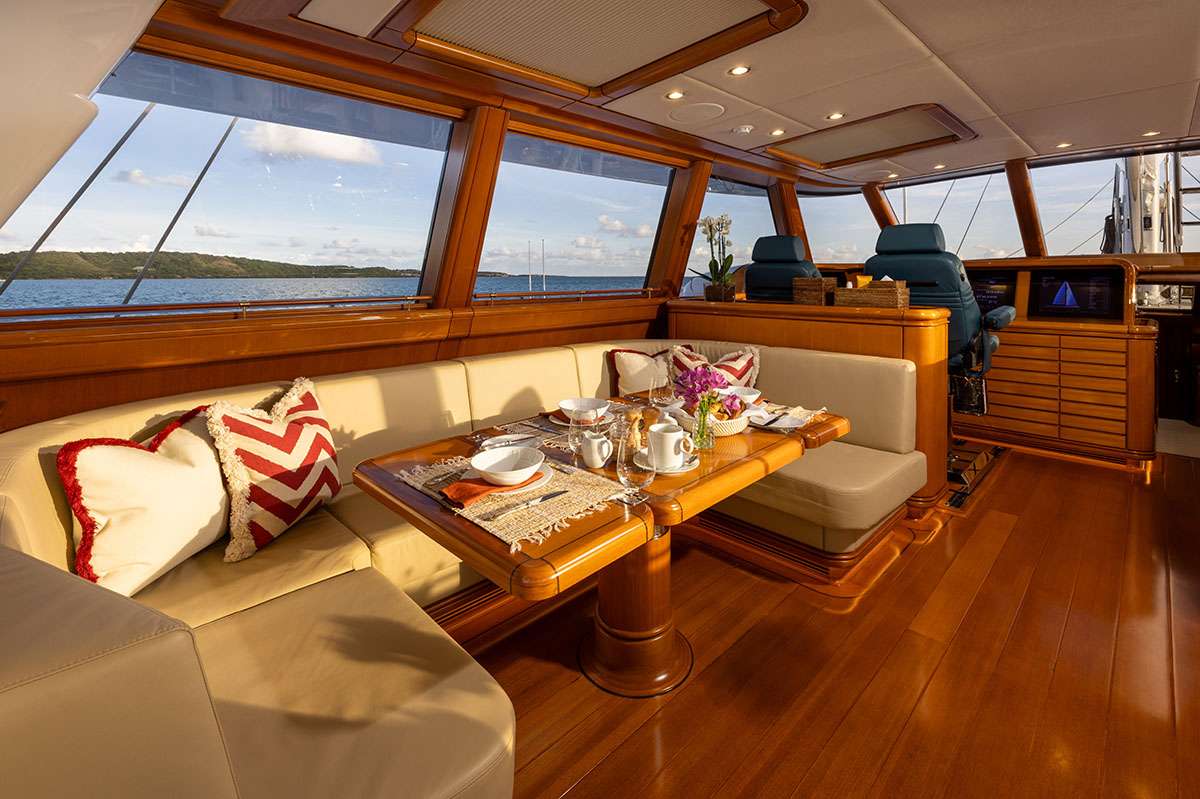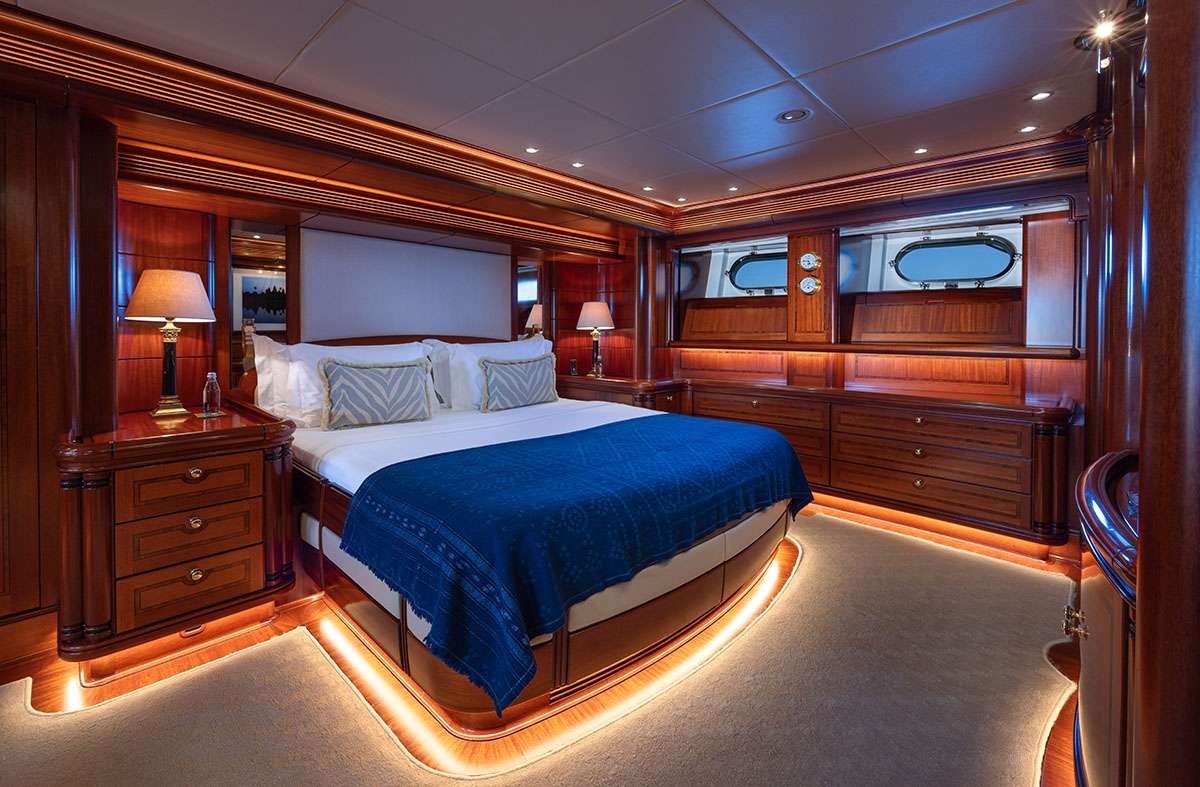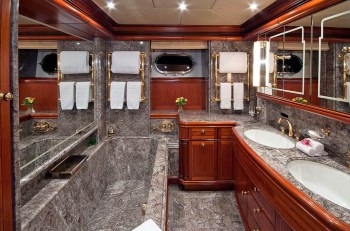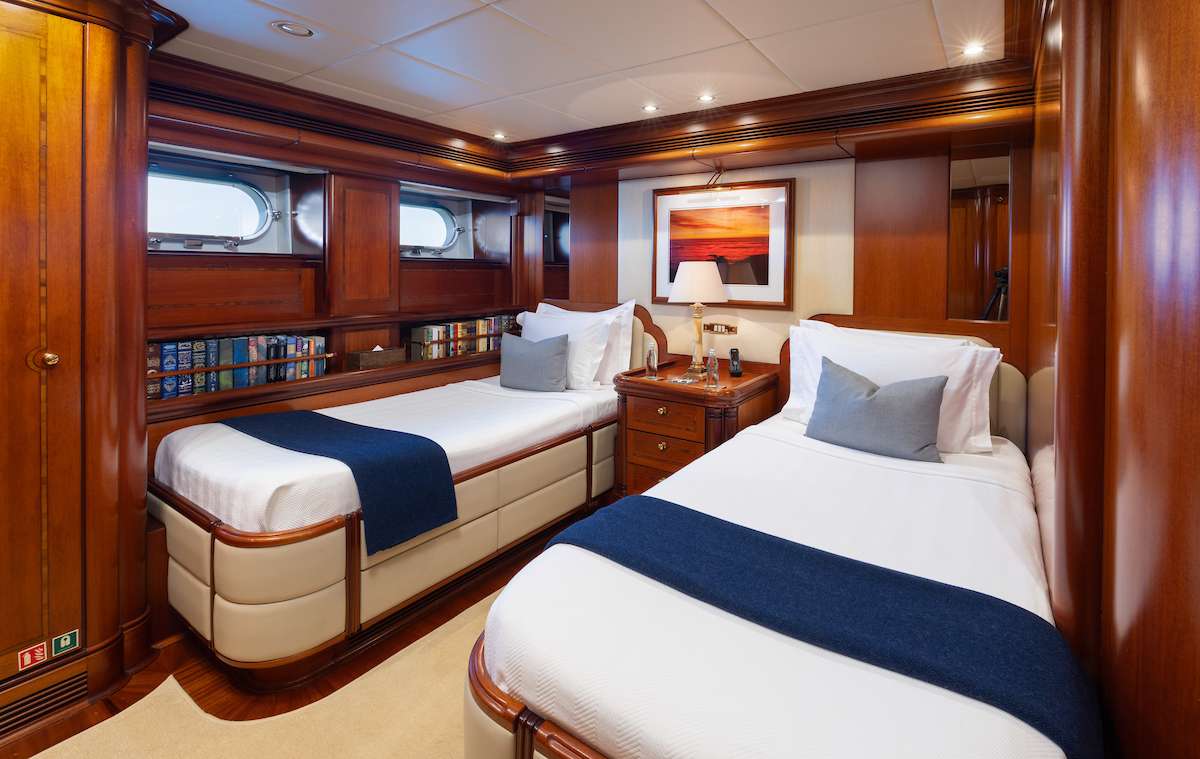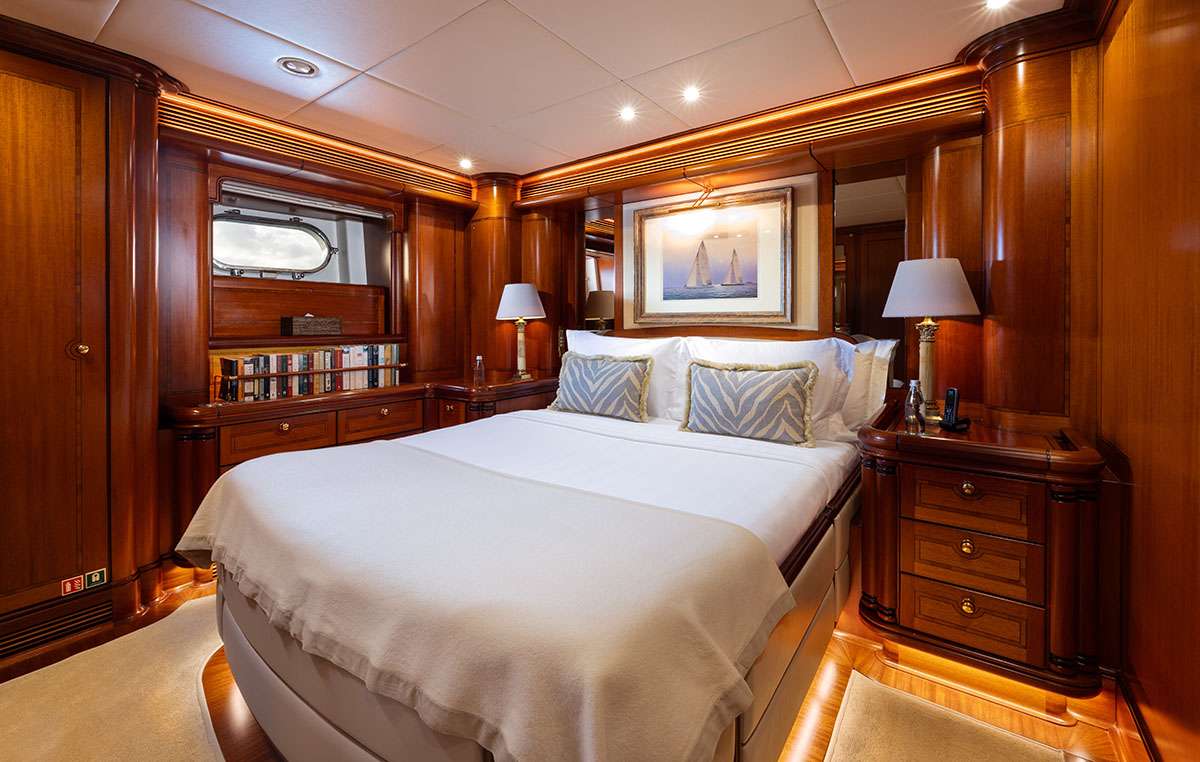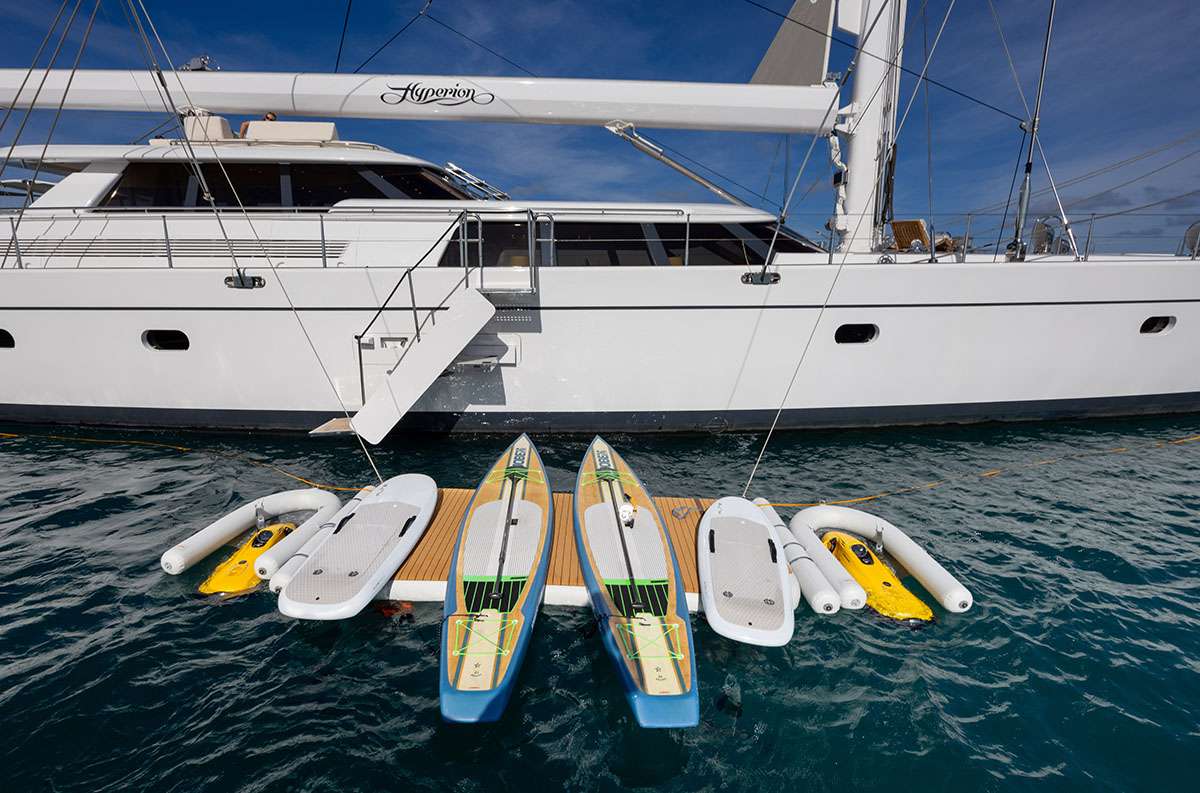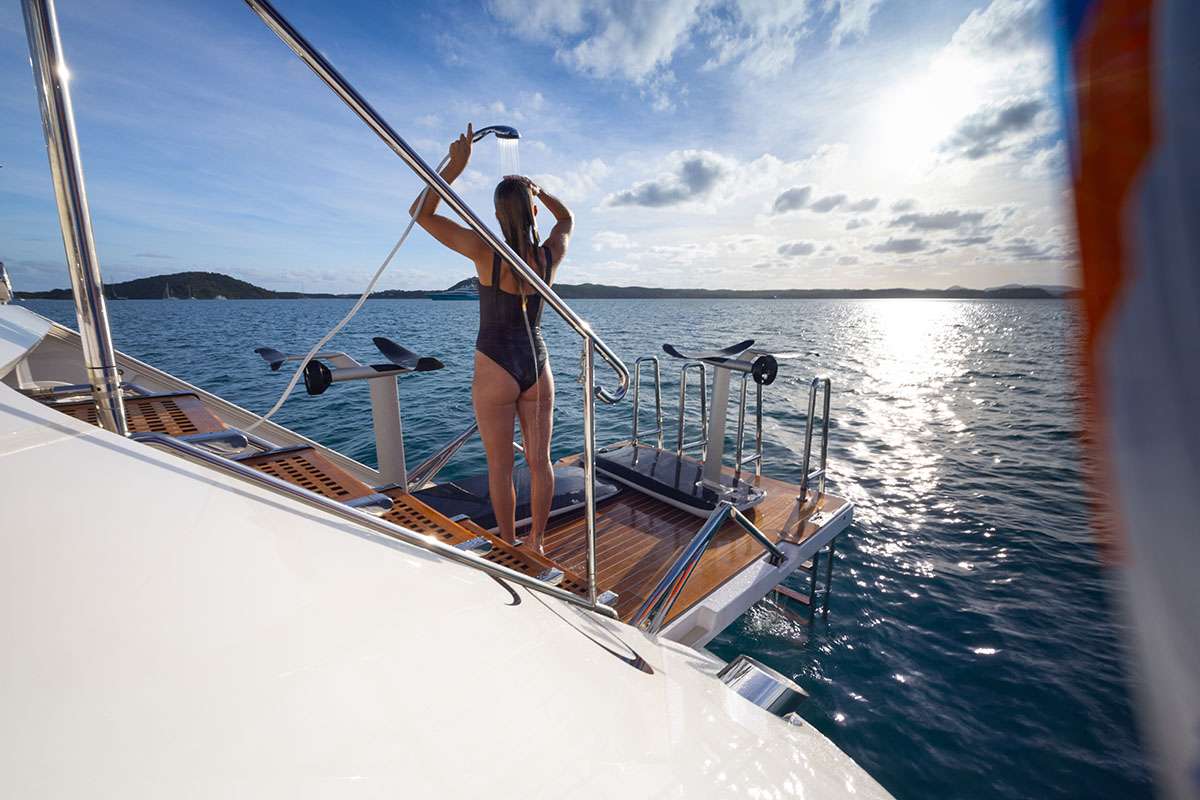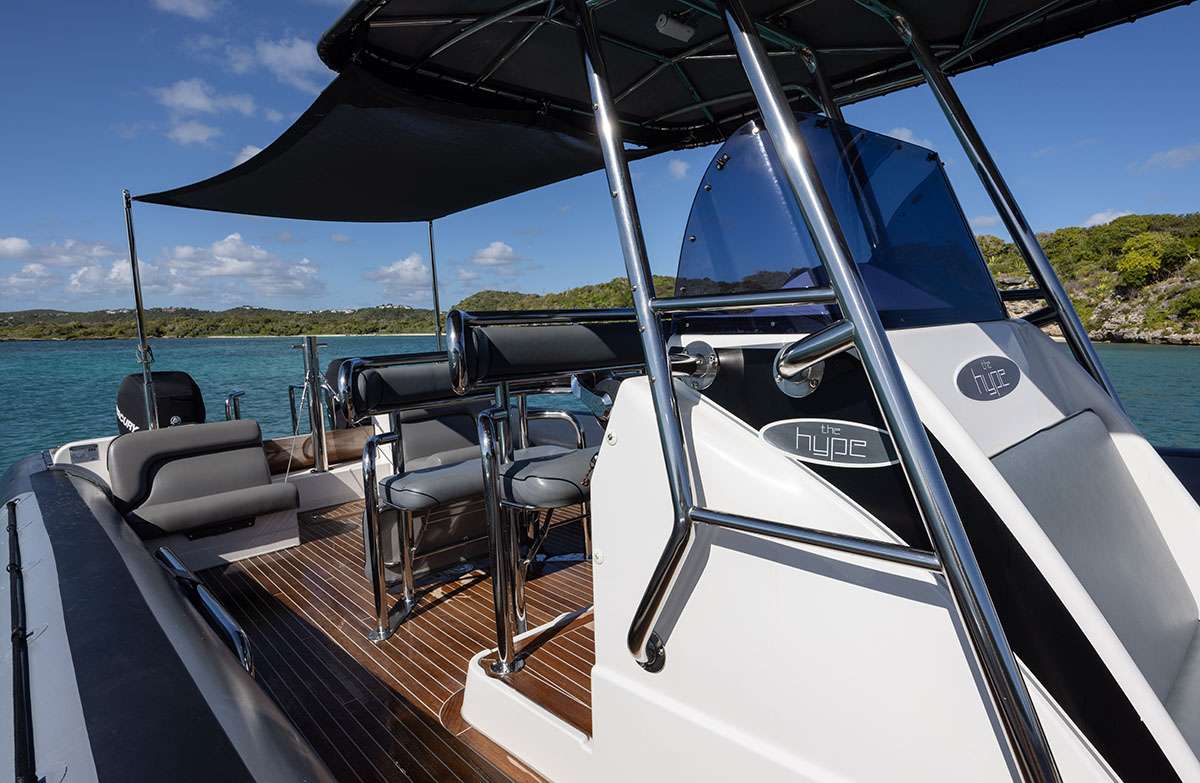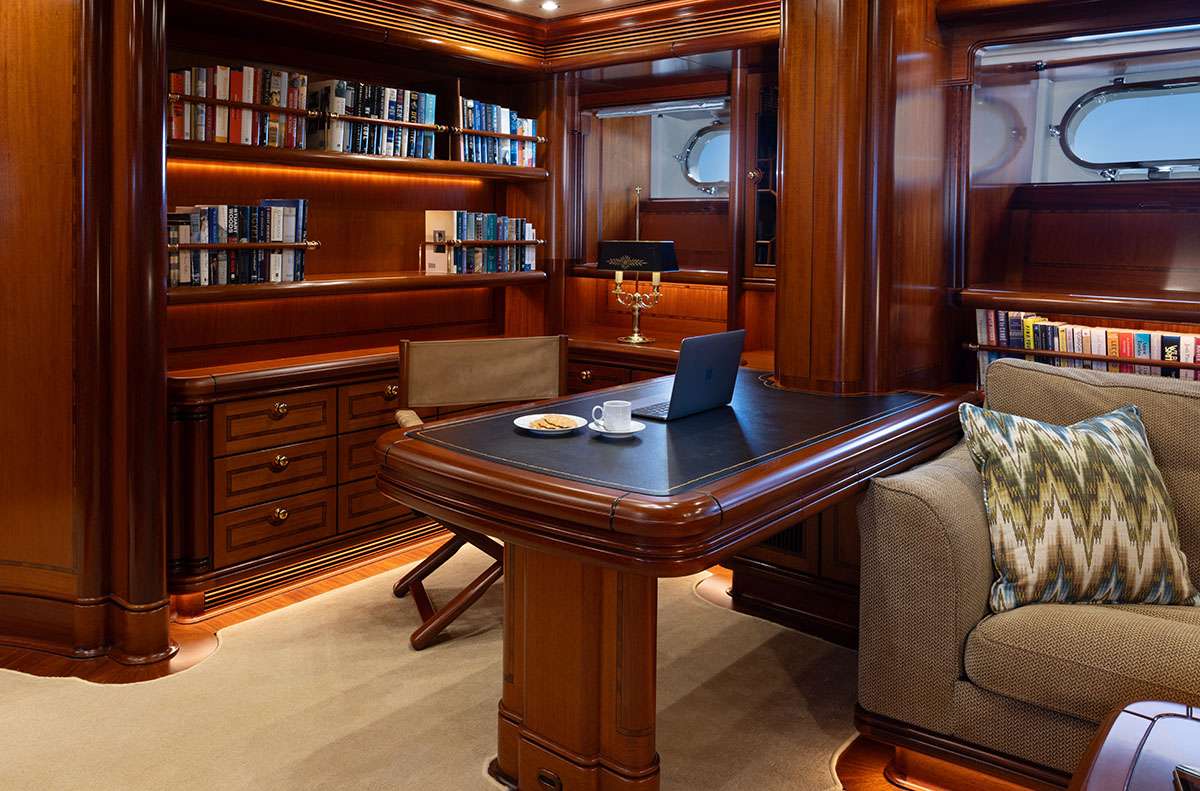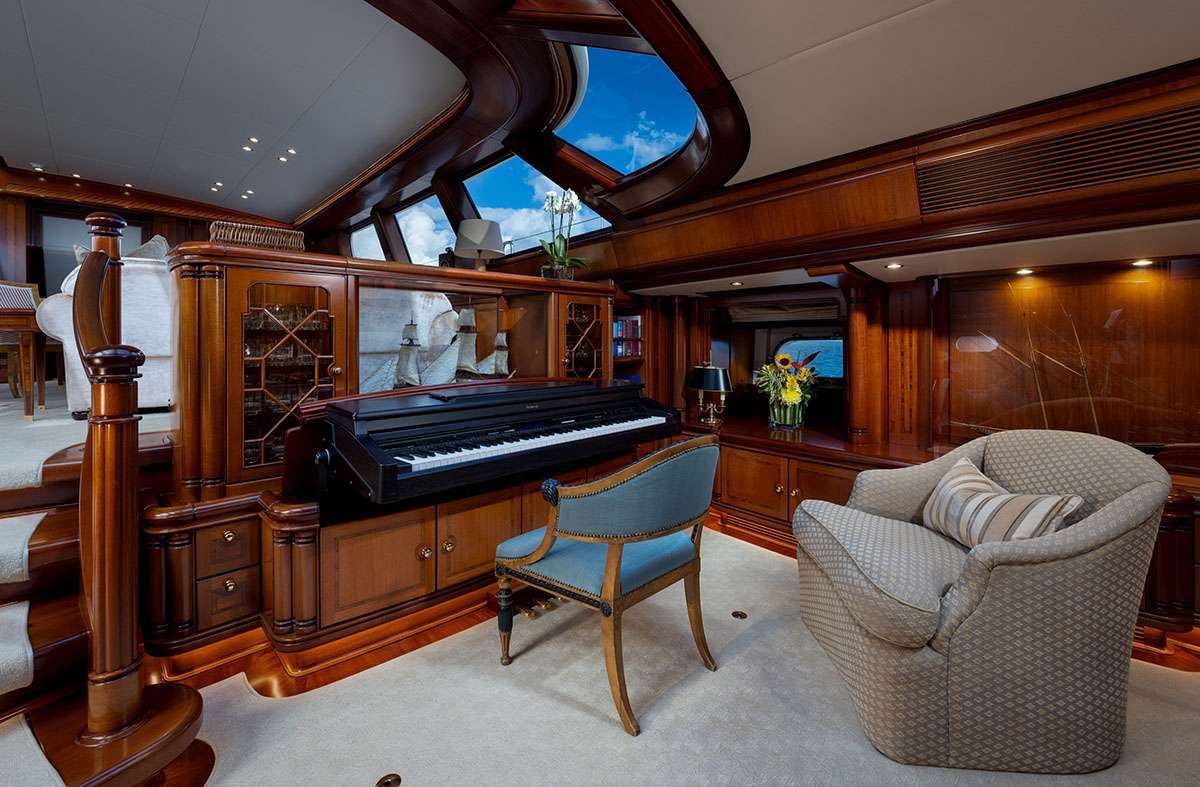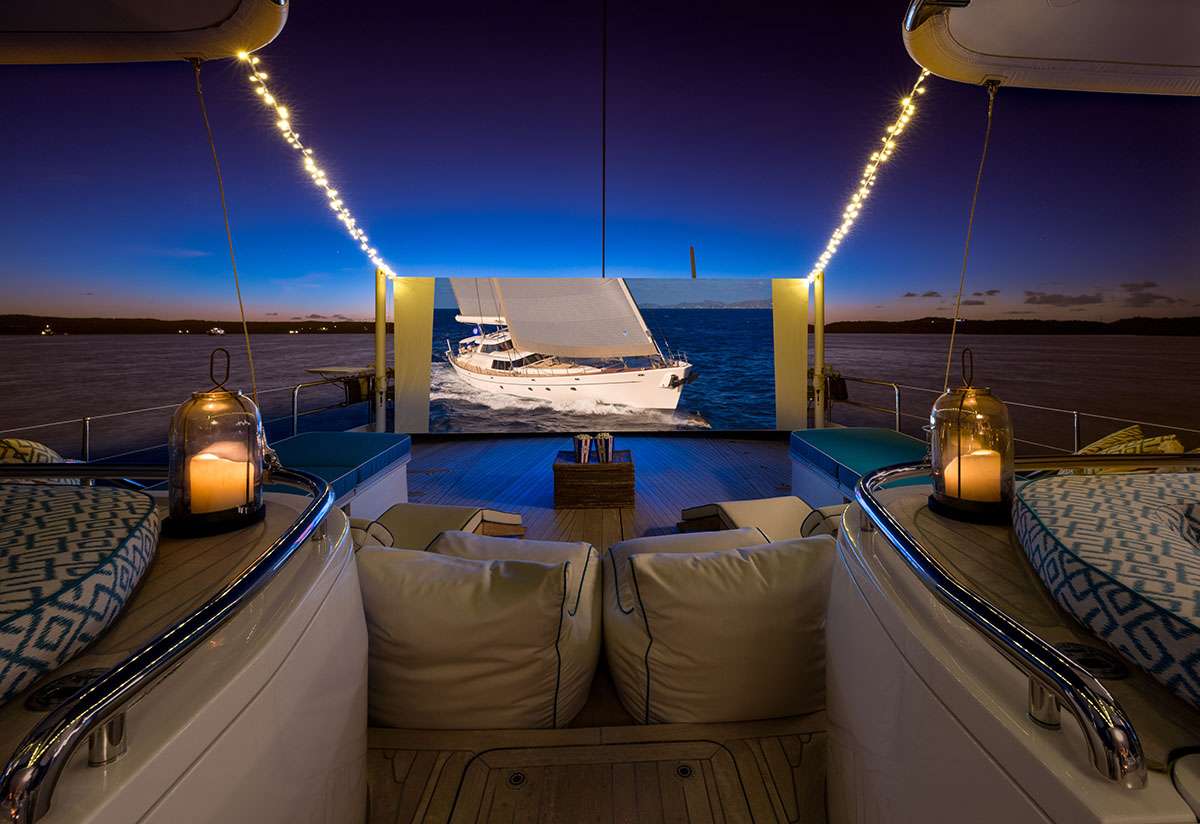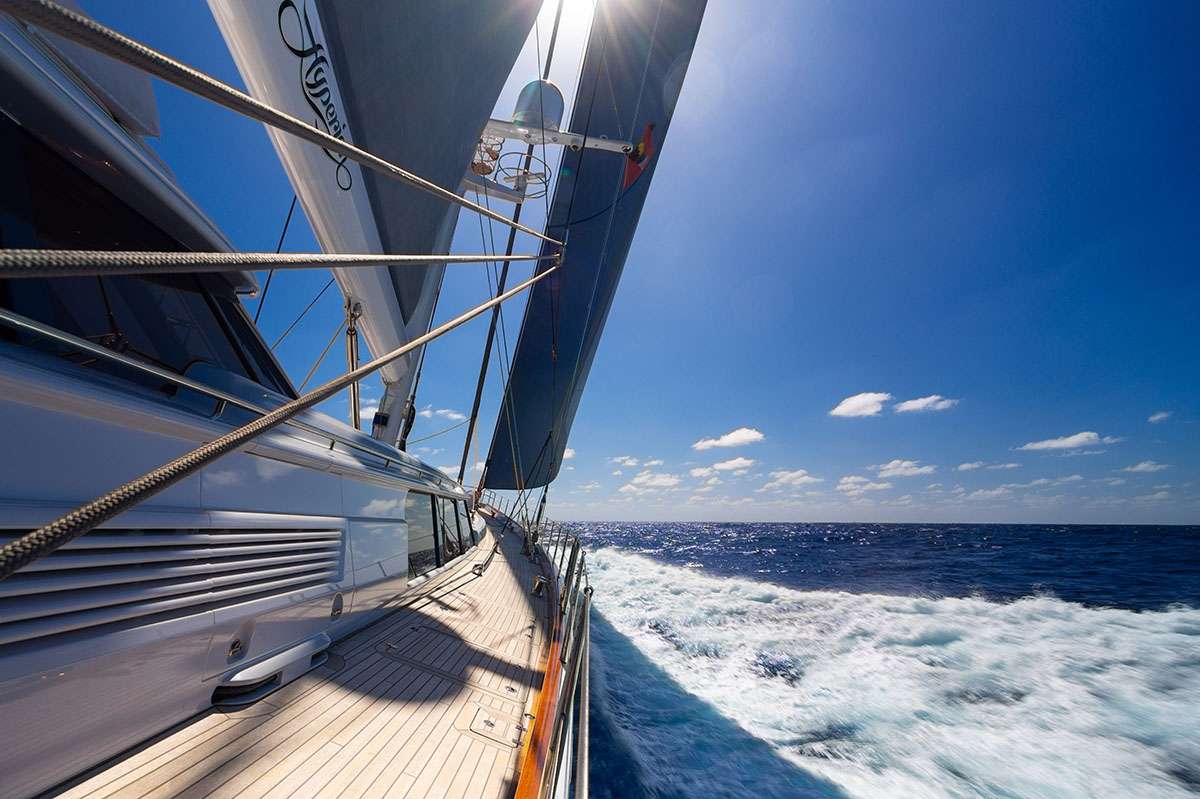 Sailing Yacht HYPERION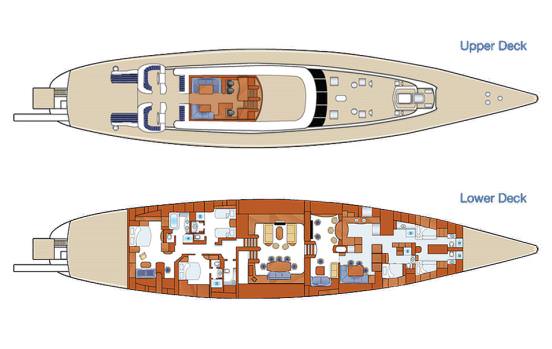 S/Y HYPERION Crew Profile
January 2017 Update
__________________________________________________________
CAPTAIN: Daniel Rawlins (British)
Daniel grew up on the coast of South Africa and got involved in sailing with the Royal Natal Yacht Club at the young age of eight. His career in Super Yachting started in 1998, when he quickly completed three transatlantic crossing and two busy charter seasons before taking a permanent captain's position on S/Y Gitana, a 120 foot Perini Navi in 2000. After 4 years he went on to complete two successful circumnavigations as Captain between 2004 and 2008, spending a great deal of time in the Pacific. Daniel has a wealth of experience in a multitude of different cruising grounds; he joined Hyperion in 2010 and plans on a long future with us. He has a calm nature and easy-going personality, approachable and confident who follows the belief that the best way to lead is by example.
In his social time he dabbles in Photography, surfing and does competitive Triathlons and road cycling.
___________________________________________________________
CHIEF STEWARDESS: Zoë James (British)
Zoë was born and brought up in Nairobi, Kenya and developed an affiliation with and passion for the ocean during long summer holidays spent on Kenya's Indian Ocean coast. Whilst completing a Master's degree in Environment and Development at Kings College London Zoe spent many weekends sailing with friends on England's south coast, which is when and where she decided to combine her passion for the ocean and her new found love of sailing by embarking on a career in the super yacht industry. Zoe now has 6 years' experience as a Sole/Chief Stewardess on board sailing yachts and has developed a keen interest in and vast knowledge of coastal locations around the world from the Mediterranean and the Caribbean to the US East Coast and the South Pacific. Please don't hesitate to approach her for any kind of inquiry or service that you may like or need.
___________________________________________________________
CHEF: Pippa Crowley (British)
Although originally from the South East of England Pippa grew up sailing with her family in Greece's Ionian Sea. Her lifelong love for sailing led her to pursue a career on board sailing yachts and she has been cooking on board classic sailing yachts, including the 1911 gaff-cutter 'Mariquita' and the new J Class 'Topaz', for the past 6 years.
Pippa brings with her a wealth of experience along with knowledge and skills from classes and courses in particular cuisines such as French and Japanese. Pippa's cooking is inspired by the environment and atmosphere of a particular day: on warm summer days she'll prepare refreshing summer dishes and on cooler fall and winter days she'll prepare comforting, homely meals. She hand picks the best local and seasonal produce integrating traditional dishes to give you a fresh fusion of cuisines.
Outside of the galley Pippa is an intrepid traveller and adventurer, having summited Mt. Kilimanjaro, and is an avid and talented kite surfer.
___________________________________________________________
SECOND STEWARDESS: Maria Oreamuno (Costa Rican)
Maria was born and brought up in Costa Rica where she spent many a school holiday enjoying all that Costa Rica's beautiful Pacific Ocean coast has to offer. Maria left Costa Rica in 2010 to pursue her further education in the USA. After graduating from the Savannah College of Art and Design in Savannah, Georgia with a BFA in Textile Design she moved to Antigua, Guatemala to commence work with a US based fashion design company that collaborates with local artisans to market and sell their craft. Maria was inspired to pursue a career in the super yacht industry by the love of the ocean and the possibility of travel. She is very much looking forward to exploring new European and Caribbean countries with the crew of SY Hyperion and of discovering new cultures in particular with regards to design, textiles and crafts.
___________________________________________________________
FIRST MATE: Nicholas Jacklein (Canadian)
Nico joined Hyperion in 2011 and has become an integral member of the leadership team on board. Expanding his knowledge and love of sailing, a common thread of interest running through his life.
Nico spent his childhood summers sailing in the Great Lakes region of Canada, progressively escalating from a position on the race team of the Burlington Sailing Club to Head Coach. Beyond Nicos' extreme enthusiasm for sailing in any capacity, he tends towards the academic, having completed a degree specializing in Communications, Economics and International Trade. His various hobbies include travelling, skiing, and kite boarding.
___________________________________________________________
BOSUN: Cyrill Sipka (Swiss)
Hailing from Zurich, Switzerland Cyrill recently joined the crew of Hyperion in November of 2015. He brings to the boat an advanced knowledge of sailing after 4 years as 1st Mate on the 1921 Tall Ship 'Florette'. Cyrill first walked on board Florette as a 16-year-old guest and fell in love with sailing. He decided that as Florette was a classic wooden sailing vessel she presented a wonderful opportunity to combine his craft as a carpenter with his passion for sailing. And so after completing a 4 year apprenticeship in cabinetry and furniture making Cyrill joined Florette as a full time crew member. Cyrill enjoys personal fitness and water sports along with more creative pastimes including photography and sketching. He looks forward to expanding his sea experience and building a solid yachting career aboard S/Y Hyperion
___________________________________________________________
CHIEF ENGINEER: Dominic Ratty (American)
An experienced engineer, Dominic and a valuable asset and joined us during the Spring of 2016. Dominic acquired an affinity for mechanical engineering whilst working alongside his father, a Mechanical Design Engineer, from before he can remember. Having learnt the basics of the trade from his Father Dominic was inspired to complete an Electrical Apprenticeship in Oxford, UK before moving his hand to Marine Electrics in Brisbane, Australia. Dominic has completed his Y3 Engineering qualifications and developed a wealth of experience on board both motor and sail yachts ranging from the classic J Class Yachts Velsheda and Ranger to a 47m Palmer Johnson motor yacht in the Caribbean, USA and the Mediterranean. During his free time not spent in the furthest corners of the engine room Dominic enjoys activities such as swimming, road cycling and climbing.
___________________________________________________________
SECOND ENGINEER: Michael Henry (Australian)
Michael grew up in Sydney, Australia where he studied and completed a 4 year electro-technological apprenticeship. He worked for a further two years in Sydney as a qualified electrician before deciding that it was time to leave Australia in order to travel the world. Michael travelled throughout Europe before joining Hyperion in summer 2015.
Michael has made the natural progression into yacht engineering where he brings his electrical knowledge to the very advanced Hyperion engine room and is keen to expand his knowledge in electronics and mechanics on yachts.
In his spare time Michael loves to travel and experience new cultures, people and places. He is a very keen surfer and snowboarder and loves to socialize and meet new people.
___________________________________________________________