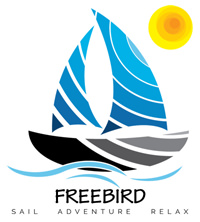 FREEBIRD is a 42 ft Granger Catamaran built in 2001 (refit 2013) accommodating 5 guests in 3 cabins with Captain Peter Dreffin (2 crew) offering yacht charters in Bahamas.
| Queen Cabins: 2 | Single Cabins: 1 |
WEEKLY YACHT CHARTER RATES:
Low Season: $9,200
High Season: $11,500
All Inclusive
Yacht Terms: CT
Rates do not include: 4% Port Authority Tax.
Cruises of 7 days require 1 dinner ashore.
Special for weekly charters:
For 4 pax or less – One Child $500 Discount per charter- aged 6 and under
DAY CHARTER rate is $2,070.00 + 4% tax, up to max 6 pax
Minimum 4 pax rate plus 10% for Christmas
Minimum 4 pax rate plus 15% for New Years
Require 48 hour turn around for the Exumas
All rates are for 7 nights, 8 days. To prorate these rates:
For 6 nights divide weekly rate by 7 and multiply by 6
For 5 nights or less divide weekly rate by 6 then multiply by number of nights.
Yacht Relocation fees:
$1000 Nassau each way
$850 Normans Cay each way
$500 Staniel Cay each way
Length: 42 ft
Beam: 22.5 ft
Draft: 4 ft
Cruise Speed: 8 Kn
Max Speed:12 Kn
Dinghy:
Jacuzzi: No
Airconditioning: None
BBQ: Yes
Scuba On-board: Yacht offers Rendezvous Diving only

Summer Sailing Area: Bahamas
Winter Sailing Area: Bahamas
The impressive Granger Catamaran offers the following accommodation:
Freebird Accommodates 4 Adults In Two Queen Cabins, Featuring Low (for Easy Access) Queen-sized Berths, Over-sized Opening Hatch Over The Berth, Windows All Along One Side, 2 Private Vanities, A Bookshelf, And 2 Closets.
A Door Located Inside The Cabin Opens Into A Single Berth In The Forepeak. This Cabin Is Suitable For A Child Only Since Entrance Is Through The Queen Cabin. Berth Size Is 8′ Long X 37″ Wide. An Opening Port Allows Ample Fresh Air. A Fan And Light Are Located Overhead. A Large Space At The Head Of The Berth Allows Room For Personal Belongings On The Floor, And A Large Silver Hook On The Wall Is Available For Hanging Clothes.
3 Wash Basins (2 In Port Head And 1 In Starboard Eco-head)
A Large Head Is Also Located On The Port Side And Is Comprised Of Two Rooms: A Stand-up Fresh-water Shower, Shower Seat And Utility Sink In One Room; And An Electric Toilet, Sink And Mirror In The 2nd Room.
Freebird Has Electric Fans In All Staterooms And Main Salon.
Luggage Wise, Pack And Then Take Half Out! Very Informal. There Is Room To Store Moderate-sized Suitcases.

The equipment available on-board the splendid crewed FREEBIRD Catamaran for your pleasure and entertainment consist of:
Floating Noodles
Two Single Kayaks
Water Game Toys
Alligator Blow-up Float
Baby/toddler Float Ring
Fishing:
Offshore Trolling Rig (rod And Reel With 200′ Test Trolling Handline Attached To Giant Yoyo. At Anchor, Fly Casting Rod (spinning Rod & Reel). Spear Fishing, Weather Permitting.Satellite Radio
Fans In All The Staterooms And Salon
Backgammon, Scrabble, And Cards

Catamaran FREEBIRD Yacht Charters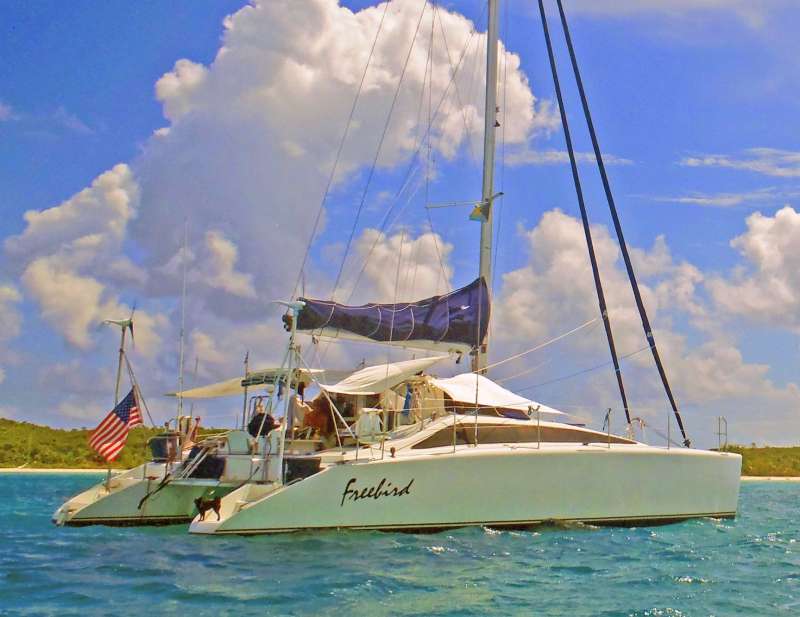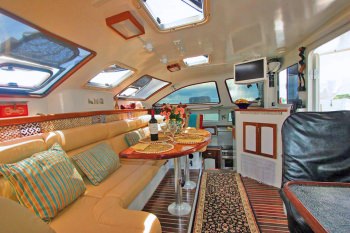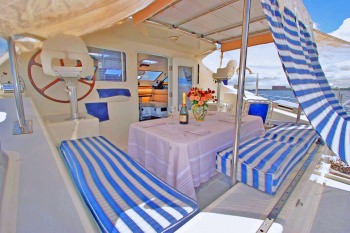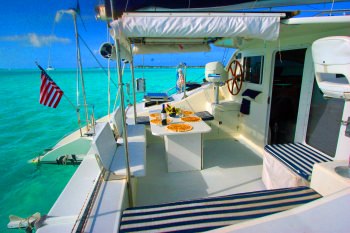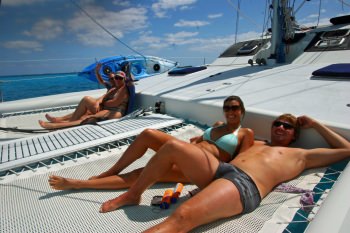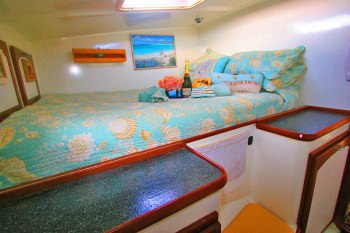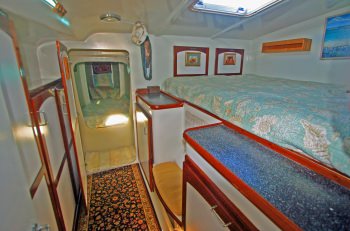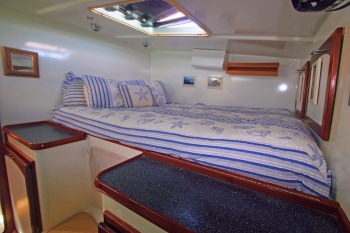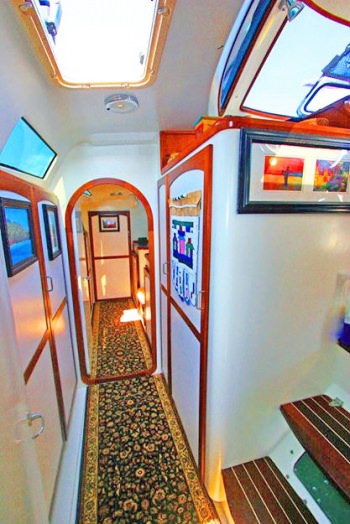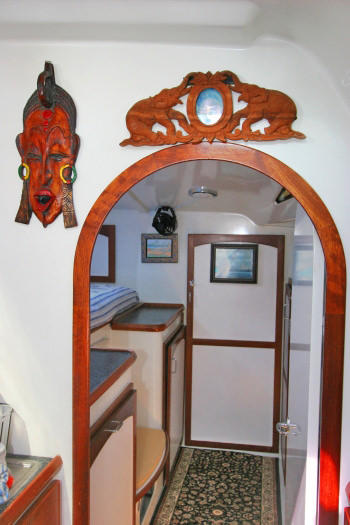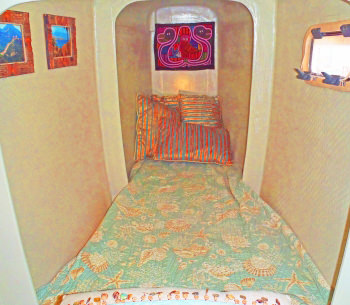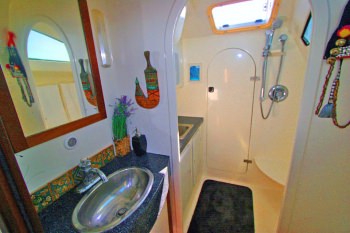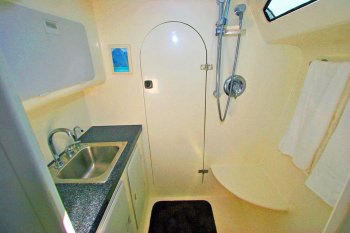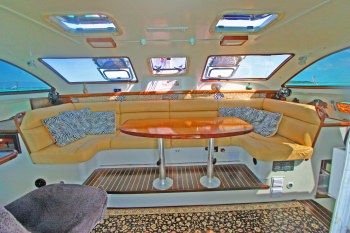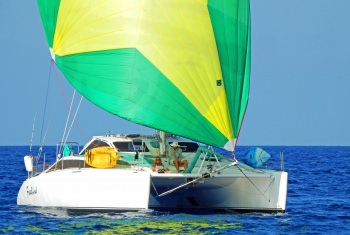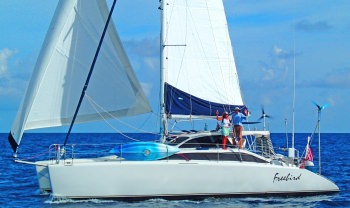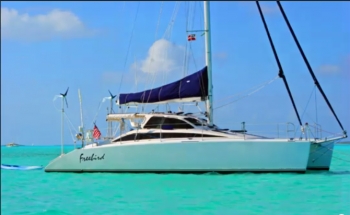 Catamaran FREEBIRD Layout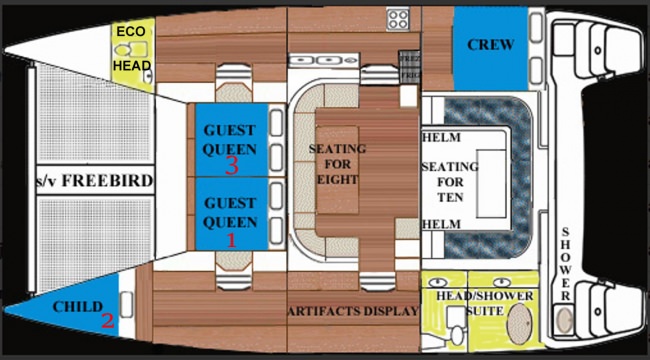 Catamaran FREEBIRD Crew Profile
CAPTAIN PETER DREFFIN
Captain Peter's love of sailing is not surprising. Yachting is central to the posh resort town of Lake Geneva, Wisconsin, where he spent his youth. He describes himself as "the wayward son", wedged in the middle of five siblings. Summers were spent sailing past storied beaches, bucolic parks and Gilded Age mansions, or racking up awards racing catamarans. After college and a short career in psychology, he bought a little monohull and set out for new horizons. Eventually, he was crewing on ocean going vessels and absorbing the fundamentals of passage making in the Mediterranean and Atlantic oceans.
Four decades and a million wonderful memories later, Peter hasn't lost an ounce of zeal. He has raised and educated two sons, mostly at sea, spending winters in the Bahamas and summers on the U.S. East coast, or in Venezuela. When the boys were capable as helpful crew, the whole family set off on a remarkable circumnavigation. Today, both sons are highly accomplished and among their many talents, experienced captains.
To date, Peter has sailed across the Atlantic Ocean four times, and has been licensed by the US Coast Guard as a Captain since 1982. He has owned eight boats. He has cruised the Bahamas for 35 years, anchoring in every hidden nook and cranny amongst the 2,000 cays and islands. He very much enjoys showing folks the Bahamas, above and below the sea. He is an expert at free-diving and spearfishing, and knows the most amazing reefs and wrecks to snorkel. He says, "My favorite yachting destination is the next one. Truly every place has something that makes it unique and special."
CHEF/HOSTESS REBECCA "BECKY" GARCIA
Rebecca Garcia's friends call her Becky, and describe her as good fun, lively and a tireless worker. She's also an extraordinary cook with an extensive repertoire of recipes. She has run many kitchens, large and small, worked in five-star restaurants and cooked aboard yachts for some 25 years. It all began in the kitchens of her two Grandmothers, one English and one Spanish, when she was so small she couldn't reach the table without a stool.
Becky spent her childhood in London, her teens and early 20s in Donegal, on Ireland's rugged, northwest coast, and summers with Dad and his family in Spain. She did a lot of amazing things. Her "very hardy life" on a small Irish island in the North Atlantic required commuting by row boat in very cold, rough water. She worked with the Irish Civil Defense ambulance emergency team. She helped a master boat builder construct a Viking ship. She achieved diplomas in holistic massage, anatomy and physiology, reflexology and courses in Reiki.
Becky says, "I love fresh, healthy food, especially colorful vegetarian dishes with delicious sauces, and Mediterranean cuisine. Guests rave about my homemade bread, tasty pastas, fresh fruit salads, cakes and puddings." In addition to cooking great meals aboard FREEBIRD, Becky might find time to chat about her family's 1911 50-foot Norwegian gaff-rigged ketch, or her three Atlantic crossings, or the big posh yacht in Guatemala with an owner who accidentally threw himself overboard. With Becky as your chef and hostess, your charter adventure in the Bahamas could include delightful ingredients you never even imagined.
Guests enjoy sharing time with little Bella (a Skipperke dog), especially with the dolphin swimming or walks or games on the beach, but equally for clients that are not doggy lovers, Peter will arrange to board Bella for the duration of the charter.

Please contact Royalty Yachts for more information regarding:
Catamaran FREEBIRD Yacht Charters.
Related Yachts: